Not all T-shirts are created equal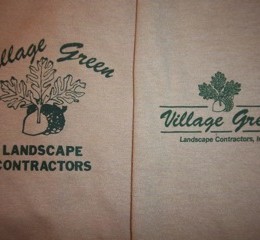 Sometimes people are inclined to shop by price alone. This is especially true for T-shirts. People think it's just a T-shirt, how can they be any different?
They can be different in many ways: the fabric may be made from 100% cotton or a 50/50 blend, or moisture-wicking material. And the weight of the fabric may range from 4.0 ounces to 6.1 ounces.
Another thing to consider when you are getting a quote is the quality of the imprint.
Prior to working with us, Village Green used a prominent local silkscreener with almost 35 years experience. They printed the T-shirt on the left, which has numerous problems:
the overall logo is too large, giving more prominence to the acorn and leaves than to the company name;
the attempt to give "Village Green" an arced effect doesn't work. Because letters in script typefaces are connected at the baseline, you can't arc them. Putting the two words of different size on different slants looks awkward and off-center;
the cap of the acorn looks like a blob of ink.
I knew that I could improve In creating a new logo (on the right) our designer:
kept the script type all on one line;
reduced the size of the acorn and leaves;
added fine detail to the acorn cap and leaves.
You will notice that in addition to being a more attractive design, the print quality of the one on the right is superior. Even though the new acorn and leaves are less than half the size of the previous one, the detailed printing gives it a more professional look.
Village Green Landscape Contractors provide high-end, professional work. The new shirts are more reflective of the quality they provide.
 "I love the new logo and also love working with Jeanie. I can always expect creative, quality work," says Susan Vaille, president of Village Green Landscape Contractors, Inc. "She really helps to present a good image for your company. I know who to call to get it done properly. Thanks Jeanie!"
If you want Jeanie Communications to help you look good, call or email today.
https://jeaniecommunications.com/wp-content/uploads/2013/11/not-all-t-shirts-are-created-equal.jpg
240
260
Jeannie Communications
https://jeaniecommunications.com/wp-content/uploads/2018/01/Jeanie-Communications-logo-for-website.jpg
Jeannie Communications
2013-11-12 17:56:32
2018-08-29 18:34:02
Not all T-shirts are created equal